Sunday April 23rd 2023
Course Description
The course is 20K in length starting at Maunawili Elementary School and finishing at Hanauma Bay State Park, racing on Kalaniana'ole Highway throughout. Time Trial rules in effect.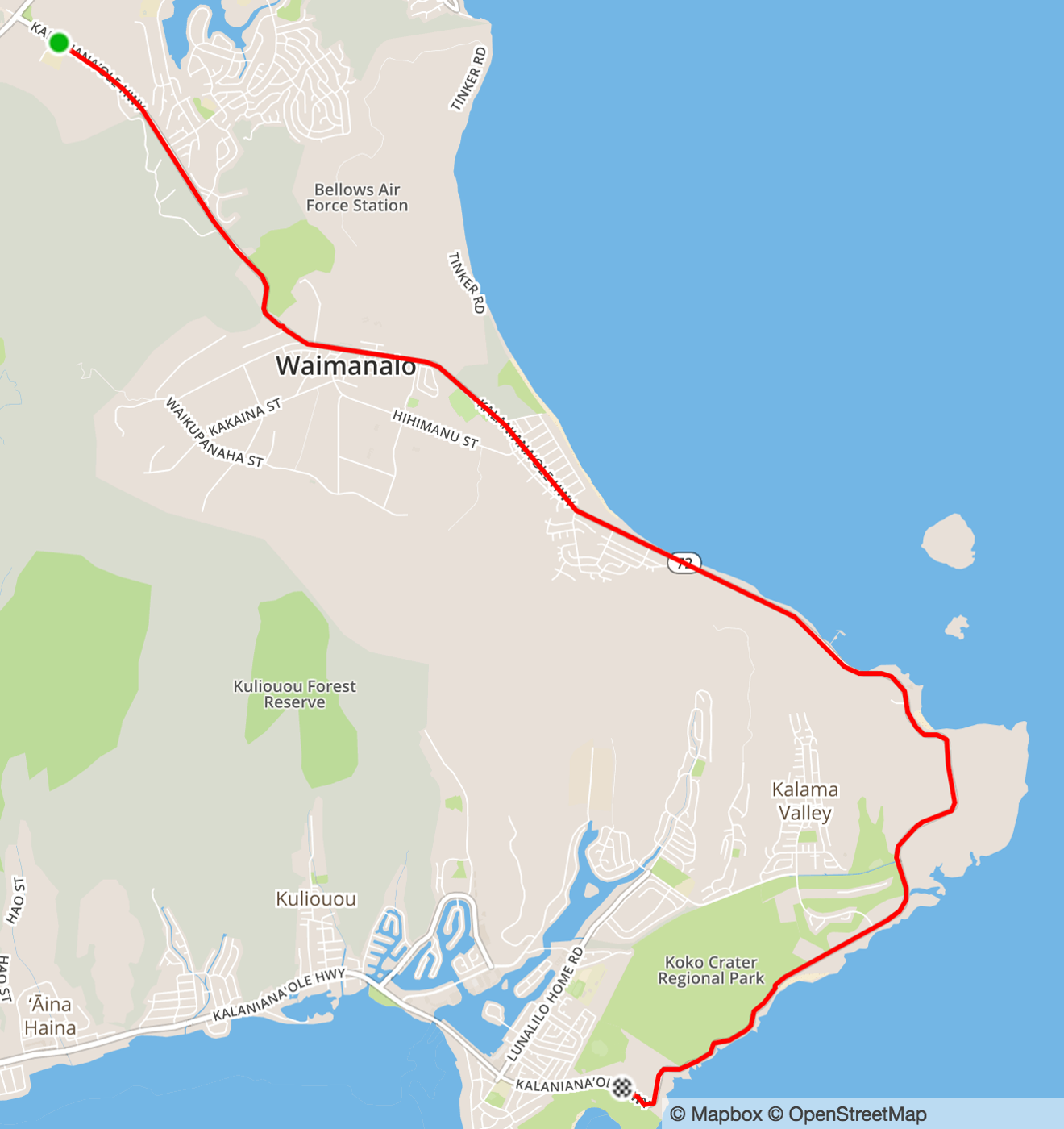 Registration
Registration is $50 for adults and $25 for juniors (9 - 18) (plus a $15 USA Cycling one-day license fee for those riders without annual license). Registration is available Online @ bikereg.com (through 5pm on the Saturday before the event).
Packet Pickup
Saturday April 23rd, 12 P.M. - 3 P.M. @ Fort Ruger Park (aka Triangle Park)
All participants must sign the USA Cycling Event Release form.

Parking [IMPORTANT]
As with previous years we want to be respectful of the small residential neighborhood near our starting line. Nobody likes being woken up by slamming doors and loud voices at 6 in the morning when they don't have a reason to be awake. This year we're going to try and do a better job of making sure we don't disturb the neighborhood. To that end here are the RULES:
NO PARKING in the Olomana Community (between Maunawili Elementary and the intersection of Kalanianaole Highway and Kailua Rd.)
NO PARKING at Maunawili Elementary. This is Department of Education property, not public parking.
Parking is available in the commercial area of downtown Kailua in the vicinity of Kalapawai Cafe & Deli.
Wherever you park, be respectful. Don't slam your doors, don't talk loudly, and don't play loud music. Remember it is early in the morning, and not everybody has a 20k TT they're excited to get on with.
Malama Aina. Leave any place you visit in better condition than you found it.
Race Day Schedule
Sunday April 23rd 2023
6:00 A.M. Check-in & Late Registration Opens at Maunawili Elementary School.
6:30 A.M. Check-in & Registration Closes.
7:00 A.M. First Rider Rollout.
Award Ceremony after race at Kalapawai Market (at Kailua rd and Hamakua dr.).
Categories
Title
Gender
Age Group
TT Bike Categories
Juniors
Men
16-18
U23
Men
19-22
Senior
Men
23-34
Master
Men
35-49
Golden Master
Men
50-59
Golden Master
Men
60-69
Golden Master
Men
70+
Juniors
Women
16-18
U23
Women
19-22
Senior
Women
23-34
Master
Women
35-49
Golden Master
Women
50-59
Golden Master
Women
60-69
Golden Master
Women
70+
Other Categories
Road Bike
Men
All Ages
Road Bike
Women
All Ages
Single Speed/Fixed Gear
All
All Ages
Paracyclists
All
All Ages
Recumbents/Trikes/Other
All
All Ages
Tandem Bikes
All
All Ages
Awards
No cash prizes. Gift cards will be awarded to first place in each category.