DEMRR
Sunday August 28, 2022
The pinnacle of the Hawaii bike racing season, the Dick Evans Memorial Road Race follows a route similar to the original Around Oahu Race. Its distance, 112 miles, is the basis for the Iron Man distance Triathlon. This race is held annual in memorial to Hawaii cycling great Dick Evans.
Race starts at Kalama Valley Shopping Center and proceeds at a neutral, controlled pace through Waikiki, Downtown, Pearl City, and Waipahu. Neutral zone ends as the race proceeds onto Kunia road. Route follows the main highway to Haleiwa, along the North Shore and back to the start via Kaneohe, Waimanalo, and Hawaii Kai. There is a moving police enclosure for the main peloton. Cyclists that fall out of the peloton must obey all traffic rules and regulations. Aid Stations are provided at the top of the Kunia Road climb, in Kahuku, Temple Valley, and at Olomana. Riders of all levels are welcome. A support vehicle is not guaranteed to be able to transport those unable to complete the course. LIMITED mechanical, wheel, and sag wagon support is provided.
Modified Finish Line!
The finish line for 2022 will be slightly different from previous years! This year the finish line will be shortly before riders reach the stop sign with Hawaii Kai Dr.. This change will reduce the impact of the race on local traffic and hopefully make the race safer for everyone.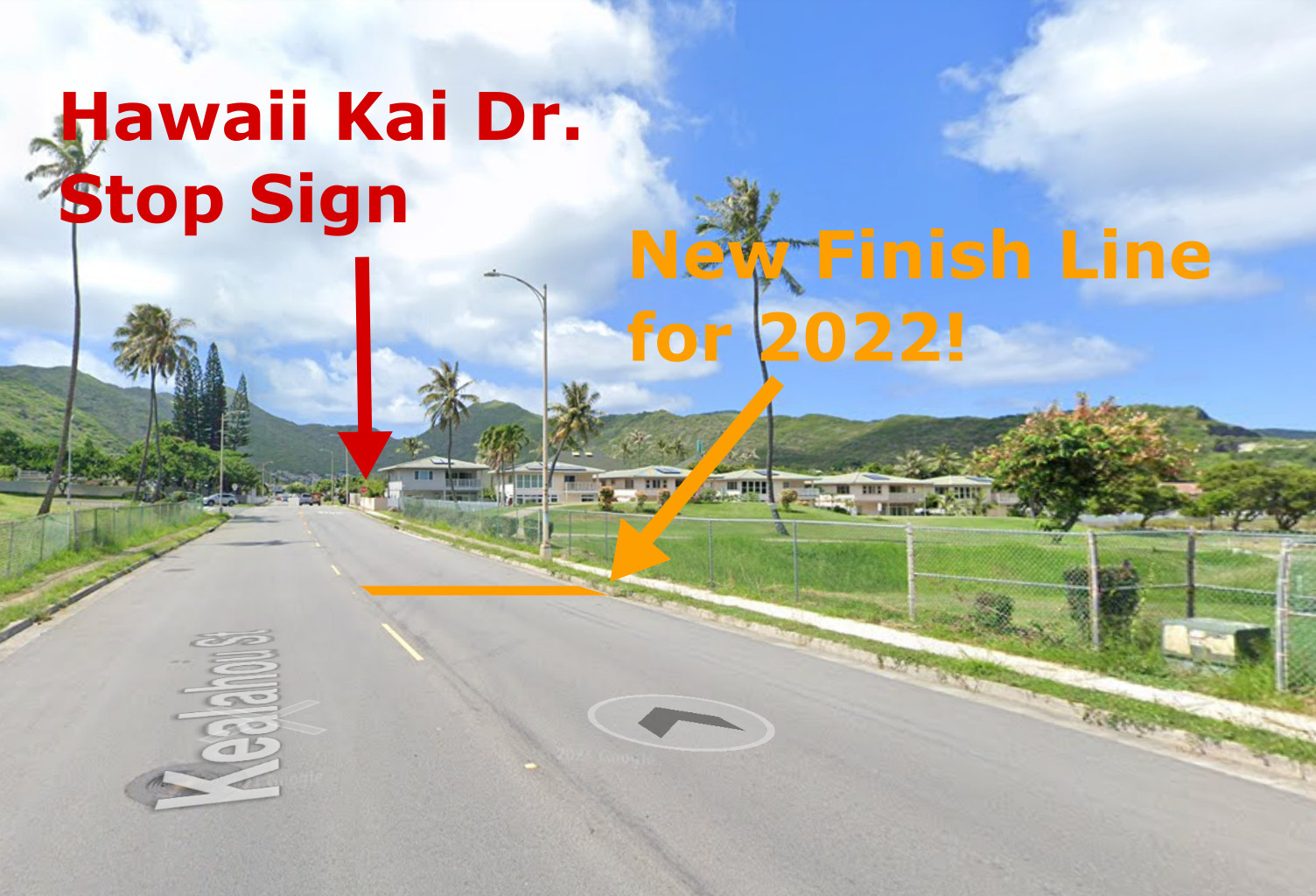 Awards
Official results will be announced, and awards handed out, after the race at [Correction] Kalama Valley Community Park.